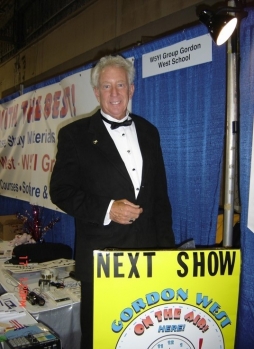 Last night the Hall of Science Amateur Radio club had their 2009 Holiday party. We were fortunate to have Gordon West WB6NOA in attendance. "Gordo" was in the New York and visiting clubs in the area. He was a huge help during our party, pushing raffle ticket purchases and giving an encouraging speech about future of our club.
On the trip home, we chatted about possible kit night plans and ideas for promoting "Ham-ology" as he calls it. He was an absolute gentleman, with time for everyone who asked him a question. It was great chatting with the man and discussing the state of our hobby.
Tom N2YTF and wife drove us through Manhattan with Mr. West enjoying the sights of Christmas in New York in the back seat. We pulled up to his hotel and Gordon hopped out to checkout the HoSARC repeater with the transceiver in his hotel room. Gordo waved to us from the hotel lobby and we were just getting ready to pull out into Manhattan traffic when suddenly we heard from behind us. "Don't worry I will get the traffic for you". Before we knew it, Mr. West was waiving down traffic for us on 8th ave! It was great seeing him again and we are looking forward to his next visit in February.